Lifestyle
Catwalking into new developments: The Décor Studio
Mar 20, 2023
Originally Published By: Canadian Interiors
The Décor Studio by dkstudio architects is an upscale decor centre designed for a developer building a condo hotel for Chef Nobu's new restaurant and development in Toronto.
The goal for the space, which also doubles as a design centre for their low-rise developments, was to create a luxurious experience that the designers describe as the oftentimes "incommodious process of choosing for newly built developer homes."
The mood and atmosphere of the Décor Studio simulates that of a high-end European fashion house to elevate the experience of the Nobu Condo and Madison Low Rise Design Studios clientele. Both studios shared a common reception pivoted by the elliptical reception desk and reflected in the illuminated circular feature ceiling.
The main concept for the Nobu Décor Studio was the fashion runway. Clients walk down a glossy white catwalk surrounded by finishes and fixture samples minimally displayed on floating glass shelves. The runway leads to the bar lounge bookended by a floor to ceiling server on one side, and an interactive finish sample display wall on the other.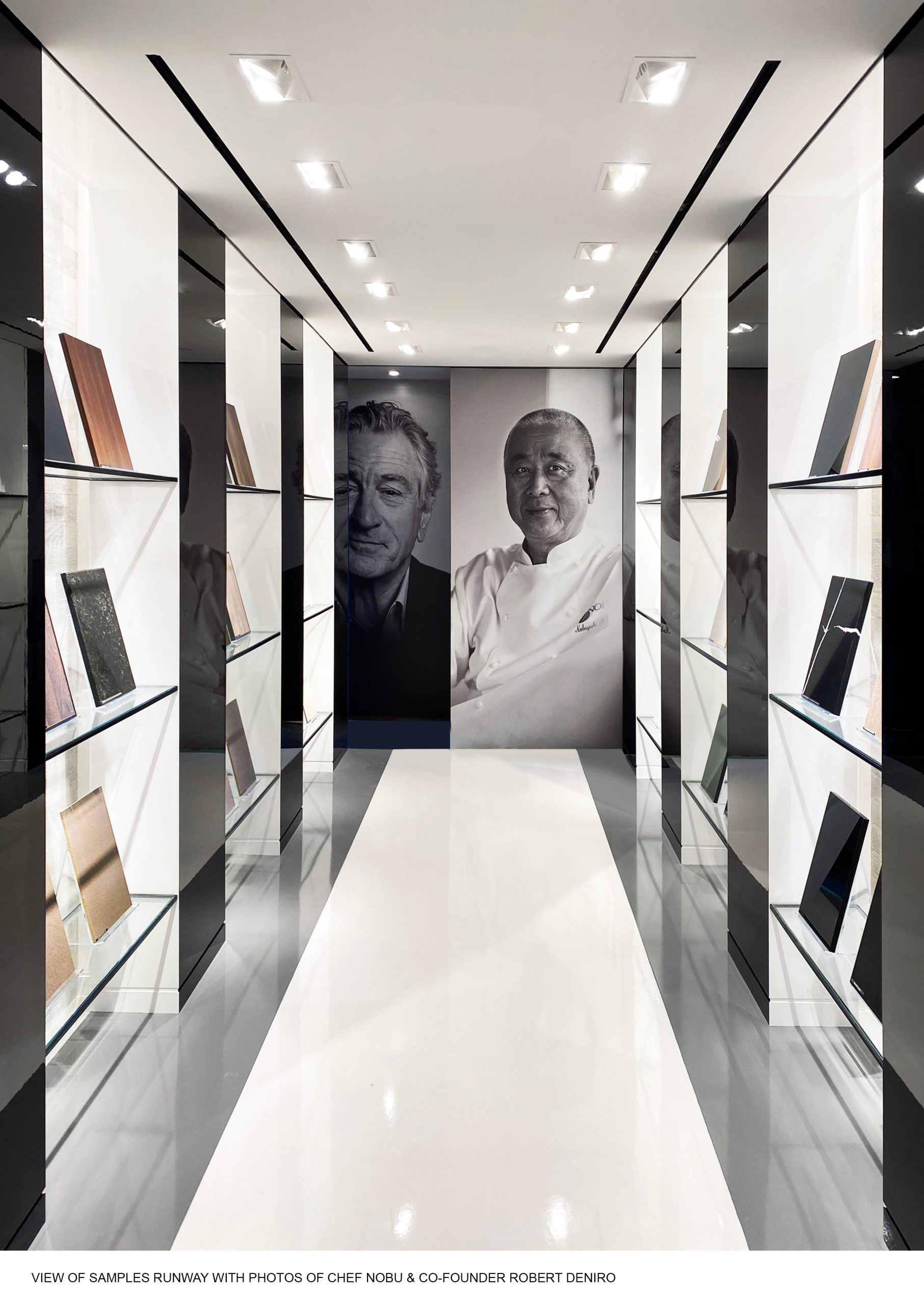 Three layers deep of premium sample packages are mounted on sliding tracks to display design combinations. High gloss materials balance the contrasting epoxy concrete floor to create a luxurious yet studio-like atmosphere.
Following the successful completion of the Nobu Décor Studio, the adjacent Low Rise Décor Center came to life. Unlike the high-rise studio that can be visited by appointment only, the low-rise studio was designed for a higher level of traffic.

This required a selection of high-quality materials that are robust and long lasting; including quartz table tops, fingerprint resistant plastic laminate wall finishes, Corian tile displays, metal shelves lined with black felt and black Corian portals. The result is a space that is functional and efficient, while retaining the retail aesthetics of the high-rise studio.
The space is strategically organized with a series of display areas. Greeted by a show kitchen, each portal room showcases different finishes and fixtures for kitchens, bathrooms, and living spaces. A custom S-shaped display with sculpted Corian shelves guides clients through the decor center.
A high gloss black experiential room features a digital display at the end, flanked by 180-degree rotating walls intersected by recessed linear LED lighting. The full-height panels carry built-in shelves on the other side, allowing for the dynamic display of finishes and samples. At the end of the studio, a lifestyle Instagram wall with a hanging swing and pink neon signage allows visitors to photograph and share their custom design experience on social media.
The minimalist white surfaces, trimmed in sharp black metal edges, punctuated by a spark of pink neon, a green wall and a swing folly raise the studio to a level of luxury retail fitting for the celebrated Nobu brand.