Residential
Frenchman's Bay – Model Home Design Q&A with our Designer
Feb 4, 2020
A: Please describe the feel of the Living/Dining space and tell us about your inspiration?
Q: The living and dining spaces showcased within this townhome is thoughtfully designed.  Our inspiration for the Newport model home was interiors of places located by bodies of water – in this case, The Hamptons.  With this direction, we designed a relaxed while sophisticated palate that is open, light and airy.  And what do you do while in the Hampton's? You host and entertain – the perfect scenario and functional flow of this space.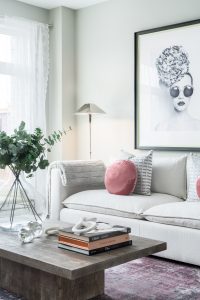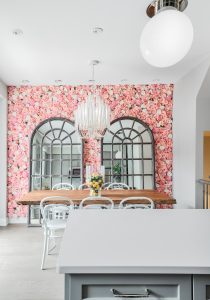 Featured Model: Newport Townhome
Q: What are the key pieces in furnishing a functional space?
A: Seating is key! – placement, quantity and size.  You can experience a "Goldilocks Moment" with seating if this detail is not deliberate, intentional and comfortable – Is the seating too big, too small, not enough, too many, the right colour, etc. Once this has been determined, the other pieces are sourced to compliment.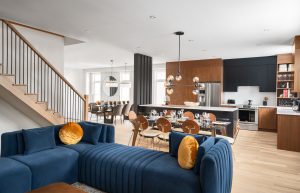 Featured Model: Wharf Single Detached
Q: What is usually the first piece you purchase when designing a townhome living space?
A: This question heavily depends on the needs and personality of the homeowner.  i.e. Do they entertain quite often?  Do they have a growing family?  Are they empty nesters?  All homes are specific to each homeowner. Perhaps initially, we would determine concept and visual intention followed by scaling, sourcing and purchasing.
Q: How do you match colours to ensure a soothing environment?
A: Colours either have a warm or cool undertone. Once you determine your accent and base colours for a space, decide if the undertone is warm or cool, then work from there to select complimentary tones and shades.
Q: What is your strategy to ensuring there is enough space for everyone at the dining room table
A: The rule of thumb is to always allow for 24" clearance per person seated at the table [elbow to elbow]. The size of the chair is also a facture as well as the scale of the piece as it should be proportionate to the dining table.
Q: When is it appropriate to put a rug down over hardwood?
A: When you want to create a room without walls.  An area rug on the floor creates the illusion in ones mind that you are "within the box" and this is your space.  This is ideal for living room spaces because this is typically where people will congregate and immerse in conversation.  Area rugs are also a great idea in spaces that require noise control as they help absorb some of the sound from bouncing around the room.
Q: What sort of seating mix are you seeing more? (Chairs vs lounger vs couches)
A: Seating is completely space specific. We have a balance ratio between two oversized accent chairs to an extended extra deep love seat. Even with all those pieces, there was still plenty of footprint to allow for a bench in front of the gorgeous architectural low window so to not take away from the view and allow unobstructed natural lighting within
Q: How can you make a room look timeless.
A: Always add a touch of black and include a conversational piece.  In this living room, it would be the artwork. In the dining room, it would be the two oversized metal side cabinets.
Q: Is there such thing as too many pillows?
A: Yes, is the easy answer, however it is a personal preference.  When you can't comfortably sit on a sofa without removing pillows, that's a sure indication you have too many.  Pillows are meant to support your back  or prop you forward if the sofa is too deep.  Pillows can also be distracting to the other pieces around, especially if there is too much pattern.
Stay tuned for more information about the upcoming final limited release of Frenchman's Bay in South Pickering!