Residential
On the map: New low-rise community is coming to Scarborough
Jan 14, 2022
Published By: The National Post
The master-planned project MILA at Midland and Lawrence features freehold towns, semis and single-detached home.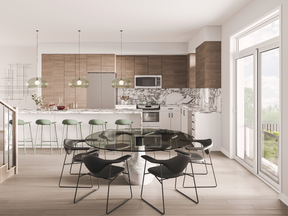 It's time to retire Scarborough's "Scarberia" handle. Midland and Lawrence is hardly the hinterlands – it's a 25-minute drive from Yonge and Queen. It's also poised to become home to Madison Group's master-planned community MILA at Norbury Crescent.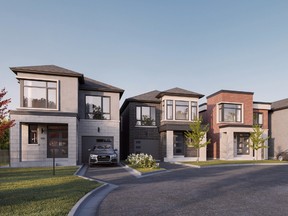 Among the Phase 1 offerings, 22 units remained at press time. Phase 2 units are expected to be released at the end of 2022. PHOTO BY MADISON GROUP PHOTOGRAPH
When complete, the 17-acre site will feature some 200 low-rise dwellings, including freehold townhomes, semis and single-detached homes with a mix of pitched and flat-roofing styles and ample windows.
"The canopy of trees in the community are something special; it's lush and green," says David Singer, vice-president of low-rise communities at Madison Group, referring to nearby Midland Park. Developed in 1959 by Curran Hall and the architect Edward Ross, the well-preserved heritage district is filled with mid-century-modern bungalows situated on expansive green lawns with old-growth trees.
"Yet there's very little new product being built," says Singer. In particular, those who prefer contemporary design will find themselves wanting. "There is maybe a one-off tear-down war house that's been demolished and turned into two houses. There are few choices for individuals who want a new, open-concept floor plan, single-family house or semi."
Last fall, during the first-phase release, 82 of MILA's units were snatched up within two weeks, mostly by young families.
"It was phenomenal," says Singer. "We noticed as we brought them to market that there is unbelievable demand for the single and the semi product."
The remaining inventory from phase one includes 22 towns and semis. Prices start at $1.4 million with corresponding sizing at 1,787 square feet and up. The second phase will launch by the end of 2022 or early 2023.
"We were attracted by the uniqueness of being in the city and being able to have a master-planned community of over 200 low-density units," says Singer of the spacious homes; there are backyards on select models, as well as terraces.
Floorplans, meanwhile, are flexible and feature stylish finishes.
"We allow a lot of customization and personalization," says Singer. "We can [tweak] the kitchen or move the laundry room or a wall; a customer can choose marble instead of quartz."
Even the laundry rooms can be shifted around. "They can go on the main floor or upstairs — or do two of them. As a multi-generational aspect, consumers demand having options with laundry rooms."
Bedrooms are also customizable. "They can do three or four, and even a fifth. And we provide a bathroom on every floor. That's standard — not all low-density product has that feature."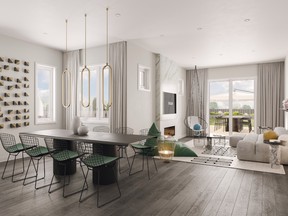 In terms of transit and amenities, Singer says, "you're less than a kilometre from the subway extension connection that will be going into Scarborough."
He's referring to the Lawrence East station, one of four new stops planned for the Scarborough Subway Extension that will replace the aging Line 3; the Eglinton Crosstown LRT and GO via Kennedy Station are also within proximity. Highway 401 is a seven-minute drive away, 15 if you need the DVP.
Singer also notes the location's amenities: the Scarborough Town Centre, the largest shopping mall in the east end, is five minutes away, and it's a 15-minute drive to the Scarborough Bluffs for sightseeing and selfies.
"It's a low-rise subdivision in an unbelievable location," he says. "To get that and proximity to transit — especially on the low-rise side — is nearly impossible. The stigma behind Scarborough is changing with the subway coming out there and the overall [rising] prices in the GTA.
Scarborough as we know it will be completely different compared to what we have today."
Pricing for the remaining inventory of Phase 1 towns and semis starts at $1.4 million for 1,787 square feet and up. The second phase will launch by the end of 2022 or early 2023. For more information, visit madisongroup.ca .